A reliable watering system is one of the most important components of maintaining a lush, healthy garden, regardless of how much you know about yard care or how long you've been doing it. You've come to the right place if you've ever thought about how deep sprinkler lines are or should be. We will go over this topic in detail below to ensure that your garden's watering system is correctly designed and functional.
Understanding How Deep Are Sprinkler Lines?
You've finally chosen to invest in lawn maintenance by installing a sprinkler system. You're not alone if you're thinking, "How deep should my sprinkler lines be?" Well, readers, the answer is more complicated than it seems. The best depth at which to put your sprinkler lines will be determined by factors such as soil type, irrigation system, and ambient temperature.
Climate Considerations
First, consider the local weather conditions. To prevent water from freezing and breaking, water pipelines should be buried deeper in locations where winters are extremely severe. Warmer temperatures, on the other hand, allow for lesser sprinkle line depths.
Soil Type Matters
Another thing to think about is the soil makeup of your yard. Sprinkler lines may need to be buried deeper in soils that drain well, such as sandy soils, to minimize damage and provide fair water distribution. Loamy or clay terrain, on the other hand, may hold more water and hence mandate deeper line depths.
The Type of Watering System
Now let's have a look at the different irrigation methods. Drip irrigation systems are becoming more popular owing to their low water use. As a result, you may question, "How deep should drip irrigation lines be buried?" Drip irrigation pipes are sometimes just 6 to 12 inches below the surface. However, for the most up-to-date instructions, always reference the manufacturer's handbook.
The Installation Process: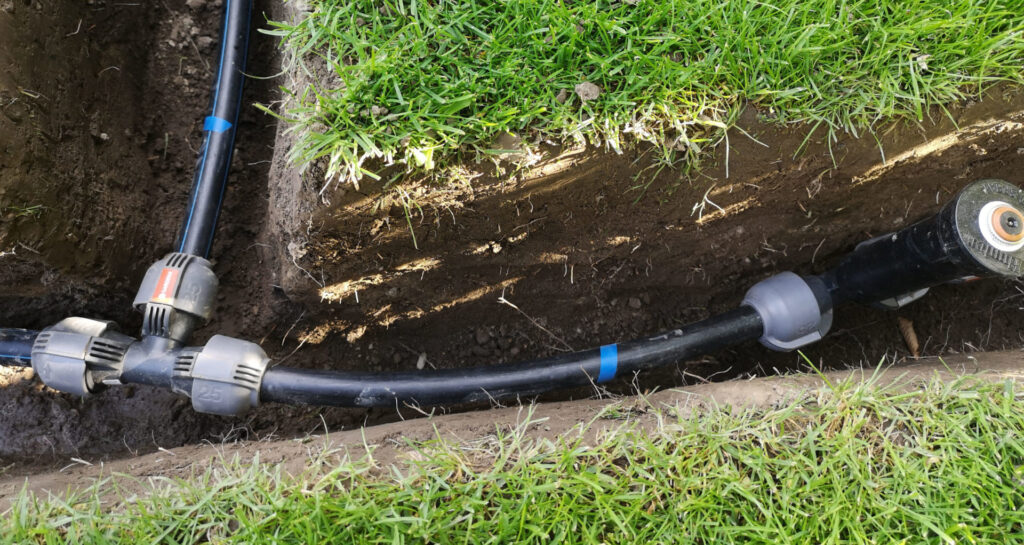 Let's talk about "How deep are sprinkler lines? and How is that choice made?" The secret, my friends, is in the planning. Make sure you have a sound plan in place before undertaking any landscaping or irrigation work. Every step will take a considerable amount of time and will extend how long your lawn sprinkler installation will take.
Before the Dig
Before commencing any excavating job, call 811 or your local utility finding agency. By taking this care, you can guarantee that your water lines are placed without injuring any underground infrastructure. Put safety first!
Digging the Trench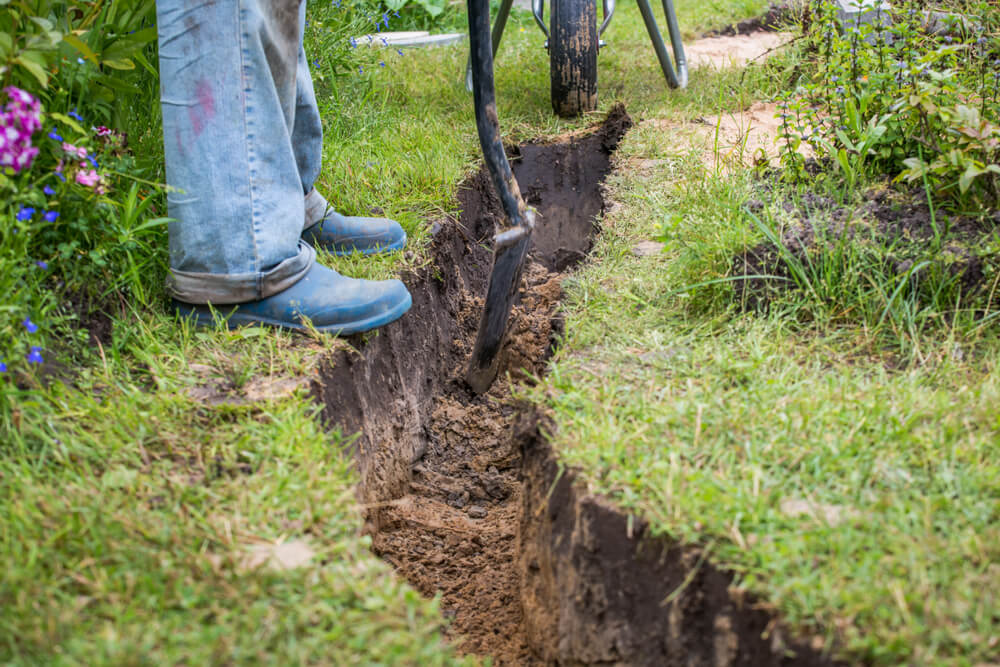 The fun step of installing your water lines has finally arrived: excavating the trench. Keep in mind that the elements we covered will affect the extent. The hole must be big enough to accept the pipes and other relevant components. As you work, keep the slope in mind. If the hole follows the curves of your yard, water distribution will be optimal.
Laying the Lines
Now that the hole has been created, the water lines may be installed. To prevent water from backing up, make sure there are no leaks or sharp turns in the lines within. Preparation pays off here: carefully set out your lines to ensure there long enough and are of the right kind to reach any place in your garden.
Backfill and Test
Once the pipes are in place, the hole must be carefully filled so that the lines are not disturbed or damaged. Following that, do a thorough test to find any water flow abnormalities, obstructions, or leaks. Adjust as needed to get the best spray pattern while using the least amount of water.
Extra Factors Effecting:
There are some additional factors that everyone must consider before installing a lawn sprinkler system at the optimal depth to reap maximum benefits.
Protection against the Elements
Burying the lines reduces the possibility of their being cut by lawnmowers, animals, or inattentive people. This will ensure that your sprinkler system remains efficient for many years to come. But how deep your trench should be depends on the surrounding hazards like wildlife and weather.
Even Water Distribution
Water flow is uniform throughout the system when the lines are correctly placed. By doing so, you may ensure that your whole lawn receives the same amount of water. Goodbye, barren areas, and hello, lush, evenly grown fields.
Frost Protection
If you live someplace cold, the depth of your water lines may affect their ability to keep your plants frost-free. They won't be impacted by the cold if you bury them below the frost line. This decreases the likelihood of expensive pipe breaks throughout the winter.
Regular Maintenance
Your irrigation system, like the rest of your lawn, requires regular maintenance and inspections. Regular checks should be made for leaks, blockages, and broken components. Keep the water flowing freely by cleaning the outlets and spray heads as needed. Early diagnosis of problems and quick repair may help you prolong the life of your irrigation system and save money on upkeep.
Low Water Pressure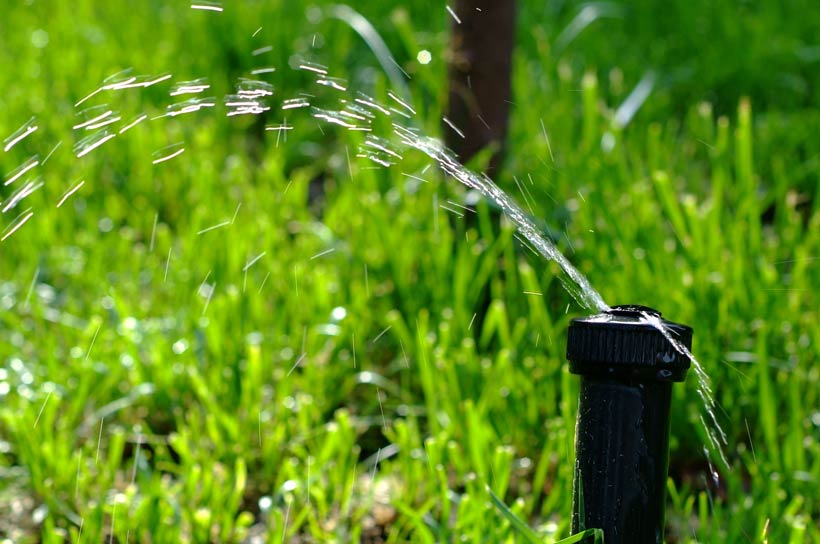 There might be a number of reasons why your sprinkler system isn't spraying as efficiently as you'd want. Check that nothing is obstructing the spray heads or the outlets. If you clean them well, the water may begin to flow again.
Furthermore, ensure that there are no leaks or other damage to the main water supply line that might cause water to stop flowing. Water leaks waste water while also lowering water pressure. Maintaining top performance necessitates paying close attention to any indicators of leakage.
Conclusion:
Keep in mind the answer to "How deep are sprinkler lines?" varies based on factors such as the local temperature, soil type, and watering strategy. Keeping these in mind and following the installation steps will result in a well-functioning watering system that will keep your garden flourishing all year.
So why are you delaying? Learn how to water your garden correctly and watch your plants thrive. Have a good time. However, if you need experts at your side to ensure your garden sprinkling system is installed with perfection, call Sunlight Sprinkler.